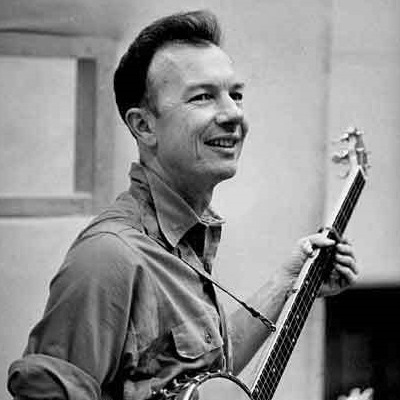 Pete Seeger
One of, if not the most, influential folk musicians of the 20th century. Pete has been someone I've grown to look up to because of his strong values that he refused to compromise on. For most of his life, he stood up for what he beleived in, such as equality and freedom of speech in the HUAC hearings. He and his family lived in a hand-built home on the Hudson river and worked to clean up the river, which was being used as a garbage dump by the state of New York. This semi-off grid living seriously appeals to me (see the writings page) and is something I would really like to try at some point. Pete also inspired me to start learning how to play the banjo and learn as much as I can about "folk culture" that weaves together the foundation of the world we live in.
Material to check out:

American Favorite Ballads 5-CD compliation (Smithsonian Folkways) - Reissue of 1950s/60s American Folk Songs and Ballads series, provides a great intro into the world of American Folk Music and Pete Seeger. Available free on youtube, spotify, etc.

Rainbow Quest TV Series - Mid 1960s - Features Seeger interviewing and showcasing the music of a wide variety of musicians, including such greats as Johnny Cash. A great way to learn more about Seeger and music, and find out about other musicians you may find you like. The entire series has entered the public domain and is freely available on the Internet Archive.

How To Play the Five String Banjo - A good manual if you're interesting in learning to play the banjo. This book has given a foundation to many notable banjo players of the 1960s folk revival, such as Dave Guard of the Kingston Trio. He uses the C tuning which makes it kind of odd in the modern scene (G is much more common today) but it is still a valuable resource, or an interesting historical artifact at the least.

Columbia Albums 1960s - Seeger released a series of records on the Columbia Label in the 1960s, including some of his best topical songs (Little Boxes, Draft Dodger Rag, God Bless the Grass, etc). Generally less political than his earlier union-backing recordings on Folkways but still have some bite even today. Worth a listen for anyone.